Kumbabhishekam - 2002
The Kumba abhishekam for arunachaleswarar temple is due to be conducted on 27th June 2002. This is to be conducted after 27 years. The previous one was conducted at 1976. Actually, according to the shiva-agama(rule book for shiva temples) the kumba abhishekam has to be done every 12 years.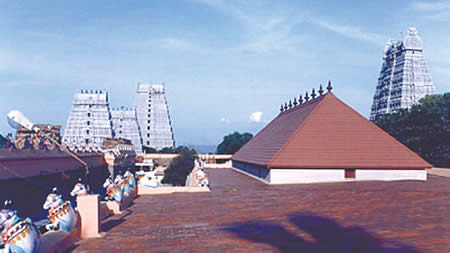 The purpose of kumba-abhishekam is to repair in and out of the temple structures and swami's belongings so as to maintain its longivity to our next generation. Many people had contributed for this repair works and this time it has been completed mostly from the donors.
Before the Kumba-abhishekam, yaga sala pooja will be performed to the Kumbas(Silver pot with auspicious water in it) and it will be poured on the kalasa's which is on top of the shrines on the kumba-abhishekam day.
The Yaga sala pooja will start on 22nd June saturday and will end on 27th June morning. then kumba-abhishekam will be performed. After that Maha abhishekam will be performed to Lord Arunachaleswarar around noon and then "Thirukkalyanam" will be performed.
In the evening around 8'o clock the procession will be taken out. The most important thing in the night procession is that all the "vahanas" will be out and "Pancha-Murthis" will give darshan on each vahanas.
All these vahanas will be on only during the karthigai deepam festival every year. On each day lord Arunachaleswara will give darshan on each vahanam during karthigai deepam festival. But during the Kumba-abhishekam day all the vahanams will be out.
It is very very rare to see that swamy is giving darshan on all the vahanams.
Schedule of Kumba-abhishekam festival
Date

Event

Time

22-06-2002
Yaga Salai Pooja
Evening
23-06-2002
Yaga Salai Pooja
Morning - Evening
24-06-2002
Yaga Salai Pooja
Morning - Evening
25-06-2002
Yaga Salai Pooja
Morning - Evening
26-06-2002
Yaga Salai Pooja
Morning - Evening
27-06-2002
YagaSalai Pooja --- --- --- KumbaAbhishekam--------
Procession-----------------
Early Morning
Morning
Night
The Pancha-Murthis(Lord Ganesha, Lord Muruga, Lord Arunachaleswarar, Lord Abhithakuchambal, Lord Sandeshwara Nayanar) will be on the great vahanas on the night of kumba-abhishekam day.
Swami's Darshan on Vahanams
| | |
| --- | --- |
| Vahanam | Lord's Darshan |
| Indira Vimanam (silver) | Lord Ganapathi |
| Karpaga Virutcham (silver) | Lord Karthigeya |
| Big Silver Rishaba Vahanam | Lord Arunachaleswarar |
| Velli Ther (Silver chariot) | Goddess Abhithakuchambal |
| Aachi Vimanam (silver) | Sandeswara Nayanar. |
Some of the things which we should not forget about this kumba-abhishekam is that the work has been started by Mr. Illayaraja(Music director) and his associates. In between the tamil nadu government has changed and this commitee is dissolved since it is formed by the previous government. Now with out any prominent head, the officials of HR&CE want to complete this.
In 1976, the Kumba-abhishekam was done fully by "Nattu Kotai Chettiars" called "Nagarathars" and also they contributed so much to the temple for very long period. Now they also by-passed by the politicians-officials.
What makes me worry and concern about this is that the politicians have entered into the administration of the temples also now and wants to make money which is very very dangerous to the culture and heritage what we are bringing for many years from our ancestors, to our next generations.