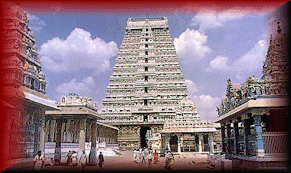 About the Temple
The temple has the history of several Hundreds years and built by several Kings during their period.
The temple has been built by several Tamil kings such as Cholas and Pandiyas.And several small kings donated and built several small things.
Importance :
This temple is one of the "Panch Boodha Sthalams" and it is "Agni" Sthalam. It has also the importance as "Padal PetraSthalam". That is the four famous 'Saiva Saints and Poets' such Appar, Sundarar, Manichkavasakar and ThirugnanaSambandar made several poems on Lord Arunachaleswara.
View of the Temple From Mountain
Structure of the Temple :
The structure of the temple well planned and built. It has seven prakaras and Nine great Towers. The Eastern tower was built by the King Krishnadevaraya in the Fifteenth Centuary. This tower is called 'Raja Gopuram' and it is the second largest tower in India. It is 217 feet high and was built by the stone.
The area of the Temple is 25 acres. It has two big tanks, one as 'Brhamma Theertam' and 'Siva Ganga Theertam'. It has also the 'Thousand Pillar Mantapam' which has thousand pillars in it.
Close View of the Temple
Builders and Contributers :
The temple was built by many kings on several periods. The first two prakaras was the oldest one and built by the oldest and first Pandiyan Kings. Then the Chola Kingsand Pandiyan Kings built the other prakaras. Later in the Thirteenth centuary the 'Hoysala Kings' from Karnataka built some small sannadhis and prakaras in the temple. They also make some contributions to the temple.
The Eastern tower was built by the King 'Krishnadevaraya' of AndraPradesh. So the temple has 'Stone Scripts' of olden Tamil,Telugu and Kannada. But most of the 'Stone Scripts' were in 'Grantha'-a form of sanskrit language. From the 'Stone Scripts' we came to know that Lord Arunachaleswara has several names and the temple has very good tradition since very long time.
Contributers :
Several kings and Jamindhars have contributed lands and Jewels to Lord Arunachaleswara. Even the contributions made by the oldest kings are not existed now, some jewels contributed by the 'Hoysala Kings' with their symbol in it are existed. From the last centuary the most contributions are made by the "Nagarathars".
The 'Nagarathars' are known as 'NattuKottai Chettiars' a community from tamil nadu made several contributions to Lord.
The existing 'Vahanams' and Jewels are made by the 'Naharathars'. They made the 'KumbhaAbhishekam' to the temple in 1942 and 1976.
Till then no 'KumbhaAbhishekam' was performed. The Govrnment did'nt take any measures for that.
Poojas:
Daily poojas were performed to Lord Arunachaleswara Six times a day. The poojas were performed in the traditional way.
---